Designing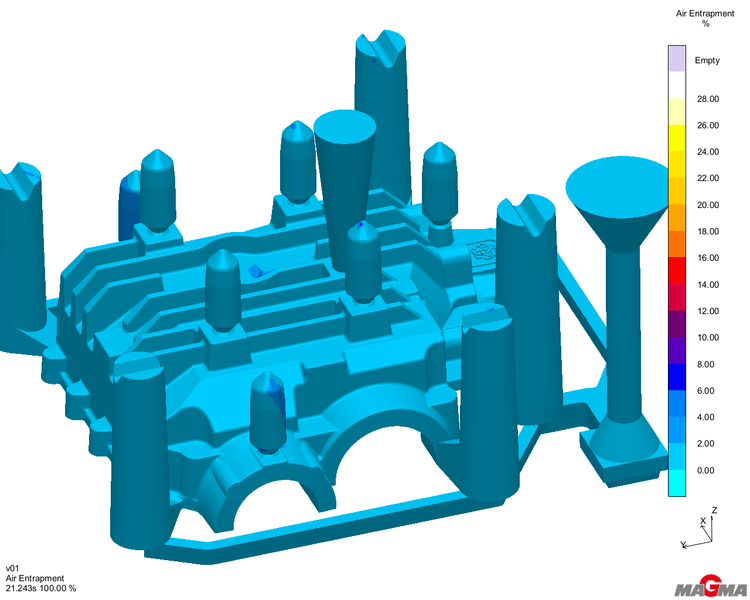 Our design office offers our clients comprehensive technical support.
The process of designing and preparing production involves the computer support systems.
The Solid Edge program allows us to model a three-dimensional prototype of a casting.
We use MAGMASOFT to analyse the pouring process, optimize gating systems, temperature distribution and predict the mechanical properties of the casting.
NX CAM program for model machining design.
The experience of our technologists results in joint working out the best solution to develop a casting that is optimal in terms of costs, performance properties and casting technology.
A successful project development partnership will save costs, avoid mistakes and ensure the quality you expect.
---
Performing modelling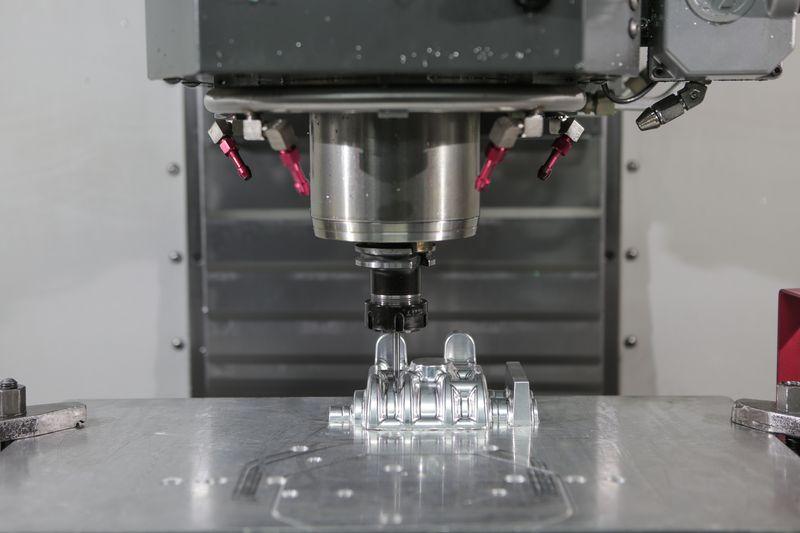 The modelling plant provides the Foundry with all the tools used for the production of castings. During the operation of models and core boxes, it conducts ongoing repairs and periodic regeneration, which ensures their proper technical condition. The department is equipped with the machining centres: HASS VF-2SS, HASS VF6 and FADAL VMC 3016FX and traditional machines park.
The foundry tools are made of metal or special plastics, which ensures a long service life. We also adapt the existing models and core boxes to our production technology.
---
Making cores
The cores are produced in the cold and hot box technology. We apply protective coatings to the cores. The cores are dried in a continuous dryer.
| Process method | Device type |
| --- | --- |
| COLD-BOX | Laempe L10 automatic shooting machine - 2 pcs. |
| COLD-BOX | Laempe L15 automatic shooting machine |
| COLD-BOX | Laempe L20 automatic shooting machine |
| HOT-BOX | Shooting machine PS-1 |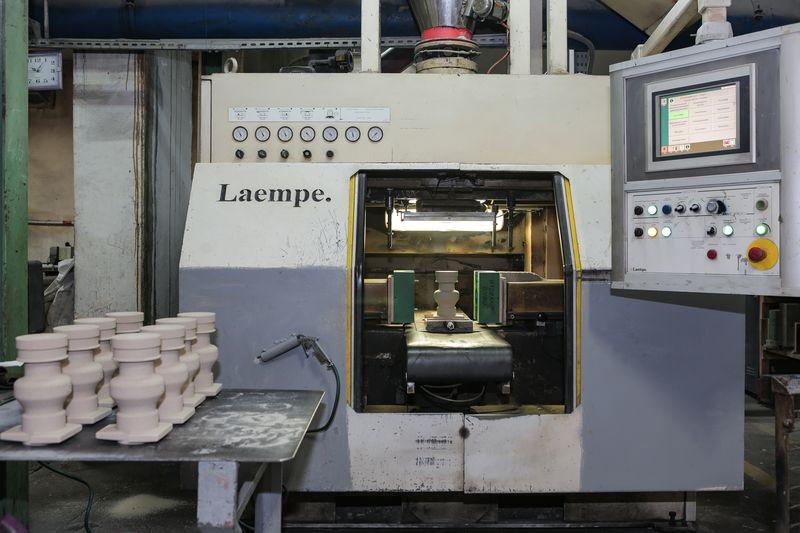 ---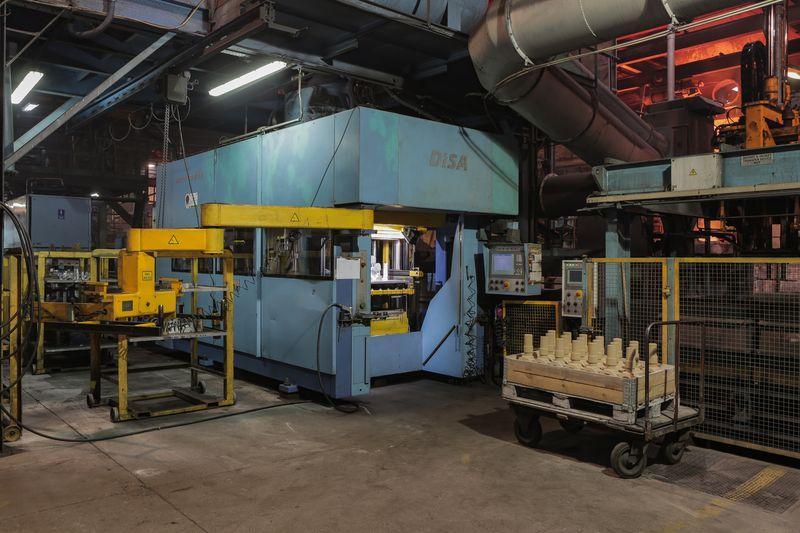 Moulding
| Moulding machine type | Mould type | Unit weight |
| --- | --- | --- |
| Automatic DISAMATIC 2013 moulding line with vertical mould division, equipped with a cast iron modification system and continuous pouring temperature measurement | 480 mm x 600 mm | 0,2 kg – 20,0 kg |
| Automatic DisaMatch moulding line with horizontal mould division | 711 mm x 813 mm | max 150 kg |
---
Metal melting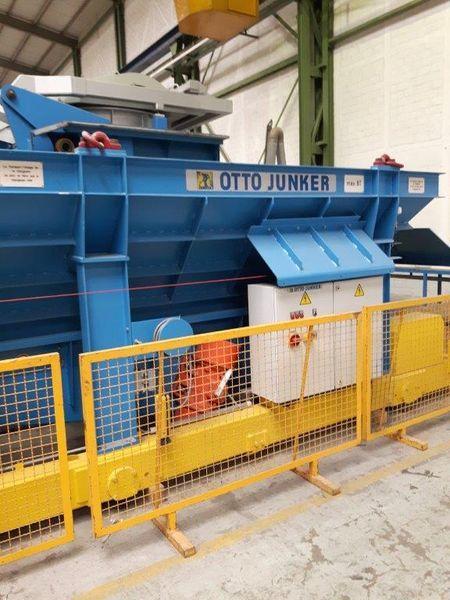 The melting plant is equipped with 2 OTTO JUNKER medium-frequency induction crucibles, which are used alternately. The crucibles are equipped with porous shapes enabling the refining of liquid cast iron.
The molten metal spheroidization is carried out in slender siphon tanks using the wire method.
Combined with the use of high-quality raw materials and continuous quality assurance, we guarantee constant and reproducible compliance with all required analyses and casting temperatures.
General technical conditions: 2 x medium frequency induction crucible furnace, melting capacity 6 t/h each.
---
Cleaning of castings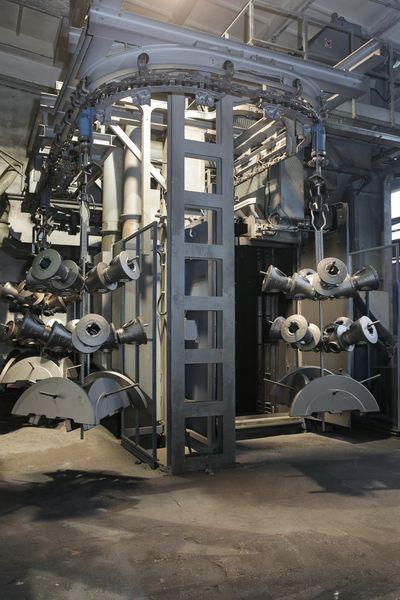 Shot blasting

Rotary blast machine STEM CH 12X18,5/3WIE/MS/1T, Slovenia
Steel belt rotary blast machine STEM B10X12,5S/2W1EM/MS/SK, Slovenia
Rotary blast machine with rubber belt STEM B10 × 12.5 R/ 2W1D/SK/MS, Slovenia
---
Grinding

---
Castings painting/ priming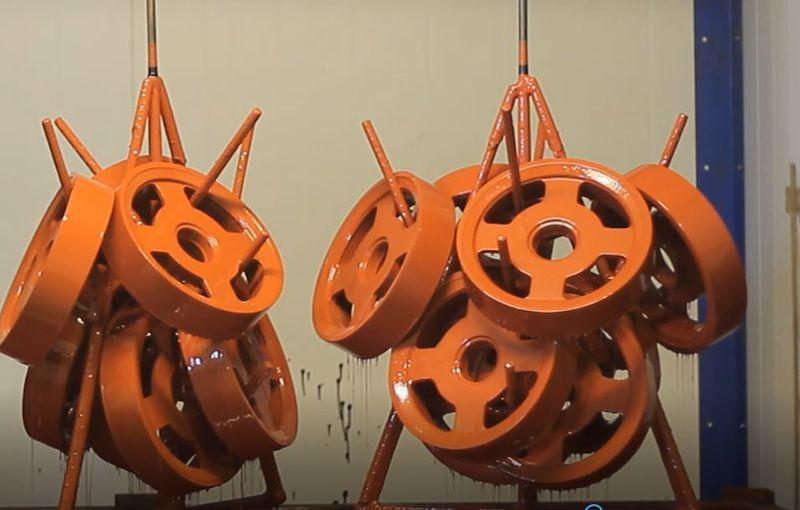 Castings are painted/ primed on an automatic line using the dipping and spraying method.
We use paints/ primers:
water-based oxide red
water-based black RAL 9005
We deliver castings according to the client's request:
priming
painting with a topcoat
powder coated (in cooperation with the painting shop specializing in painting of cast iron).
---
Castings packing
Packing according to the client's requirements, standard - castings on Euro pallets with extensions, in wooden disposable boxes, protected with heat-shrinkable foil. The client's mesh containers, castings protected in foil bags or in VCI anti-corrosion bags.
---
Mechanical processing
According to the client's needs, we can offer a cast with machining, as a component for assembly, including galvanizing, cataphoresis, powder coating, etc. In this scope, we cooperate with proven and recognized partners.
---